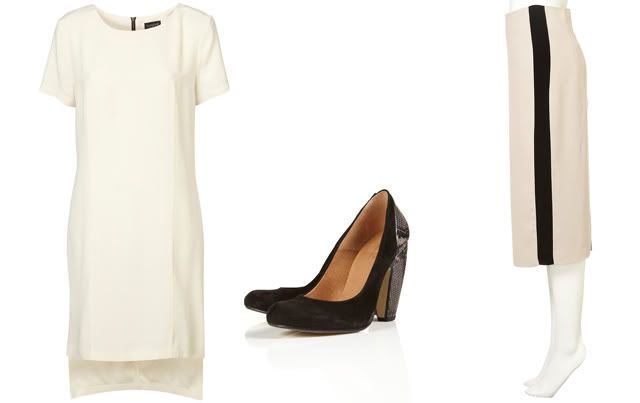 This time of year is usually all about the sales, but in my experience these are usually best avoided. Most of the things that are actually worth getting either never made it to sale, or are not reduced by very much anyway. In the past I've succumbed, and I did manage to get a pair of Viktor and Rolf heels at a fairly reasonable discount - but it was still a massive splurge. Unless you have something really specific in mind that you know has gone to sale, I always think it's more fulfilling to look forward to the next season rather than the dregs of Autumn/Winter.
The grey dress from ASOS is a nice little transitional piece - it's not overly summery so will do well with a jacket and tights in the colder months, then with bare legs when the mercury shoots up a bit. The clutch would actually also be great now, in the party season - neon is tricky but the cut-out pattern is an impressive piece from a high street retailer.
The monochrome aspect of the second image wasn't intentional, but I like it, and clearly my concession to springtime involves no colour but rather a switch from white to black. Those snakeskin heels tick the 'height-you-might-actually-be-able-to-walk-in' box, and the splash of python also makes them a bit less prim than they would otherwise be. The midi-skirt on the right would be a great springtime purchase teamed with a grey t-shirt. (All Topshop).